Brand:PLC Automatic High Speed PVC Card Laminator DL5200AT-7
---
Specifications£º420mm¡Á520mm
---
Application range£ºSuitable for all kinds of PVC¡¢PC¡¢PET¡¢PETG, etc. plastic materials, etc.
---
Introduce:
The new generation PLC Automatic High Speed PVC Card Laminators, achieves much more functions with automatic transfer materials, time and labor saving, safe and standard production , enterprise maximize benefit,etc.
This PLC Automatic High Speed PVC Card Laminators adopts the newest automatic transferring technology, which makes material transferring more easily and safely, also saves worker labor intensity efficiently.
Features:
¡ñThis PLC High Speed Laminators breaks with traditional designs and realizes automatic material transfer instead of manual transfer,achieving safe and high efficiency working.
¡ñ PLC industrial automation control system & touch-screen display are imported, convenient for operation;
¡ñ With its powerful functions, the software can save several lamination parameters automatically.
¡ñ Trouble alarm and record functions make the machine more humanized.
¡ñBoth heating and cooling tower are made of aluminum alloy,which is not easy to rust.
Pictures for Laminators DL5200AT-7 with loading system: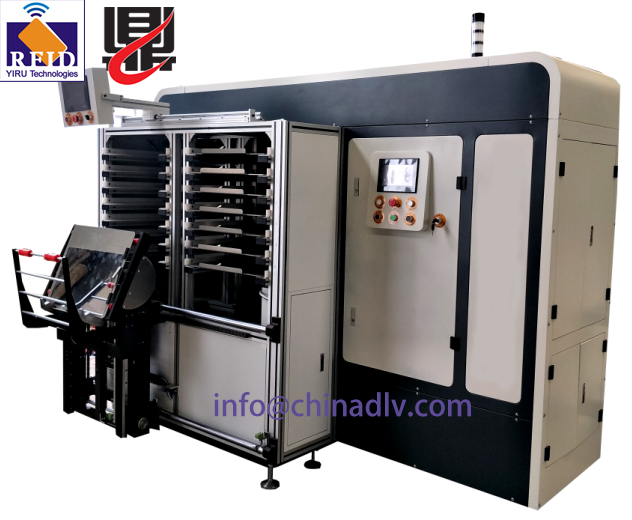 Model
DL5200AT-7






Cooling Method
Water Cooling






Heating Method
Electric Heating






Pressure Stages
Heating 12 stages/cooling 5 stages






Pressure Precision
Ê¿0.1 MPa






Temperature Precision
0-200¡æ Ê¿2£¨¡æ£©






Plate Smoothness
Ê¿0.05mm






Laminating Plate
Aluminum Alloy






Hydraulic Cylinder
Single






Pressure
0-16Mpa






Platen Size
420mm¡Á520mm






Opening
7






Opening Space
50mm






Plate thickness
45mm






Electric
380V ,50/60HZ, 30 KW







Dimension with loading system

/without

L2500mm¡ÁW1950mm¡ÁH1870mm

L2450mm¡ÁW1000mm¡ÁH1870mm








Weight with loading system

/without

3300KGS

2,600 KGS







Output
Around 10,000 cards/hour